outlines, Quimbee Outlines, download an outline, print an outline, how do I download an outline, download outline, print outline, study aids, law school study aids
Quimbee Outlines are not downloadable or printable with our Gold Plan, but you may purchase downloadable and printable outlines for $29 each. Gold users will receive a discount.
The downloadable nature of the content meant that we could no longer include the outlines in our subscription plans. We found a new tool that allows us to embed a mobile-ready flipbook directly on our website. We are thrilled to be able to include Quimbee Outlines in the Gold Plan and Quimbee Bar Review Premium. The flexibility of offering Quimbee Outlines in our subscriptions and bar review course was our only reason for adopting this tool.
With the Gold Plan, you may view the outlines online on your desktop, tablet, or mobile device, which guarantees that you will always have access to the latest versions.
Also, our Quimbee Quicklines are incorporated into our Outlines. They are not available as separate files.
Only interested in the Outlines?
No problem! Quimbee Outlines are available à la carte for $29 each (with a discount available to Gold users) and purchased outlines are downloadable and printable. If you purchase (or previously purchased) Quimbee Outlines individually, you will have lifetime access to the most current edition of our outlines by simply logging in to your Quimbee account (no subscription required).
The Quimbee Outline reading experience is super easy.
Check it out!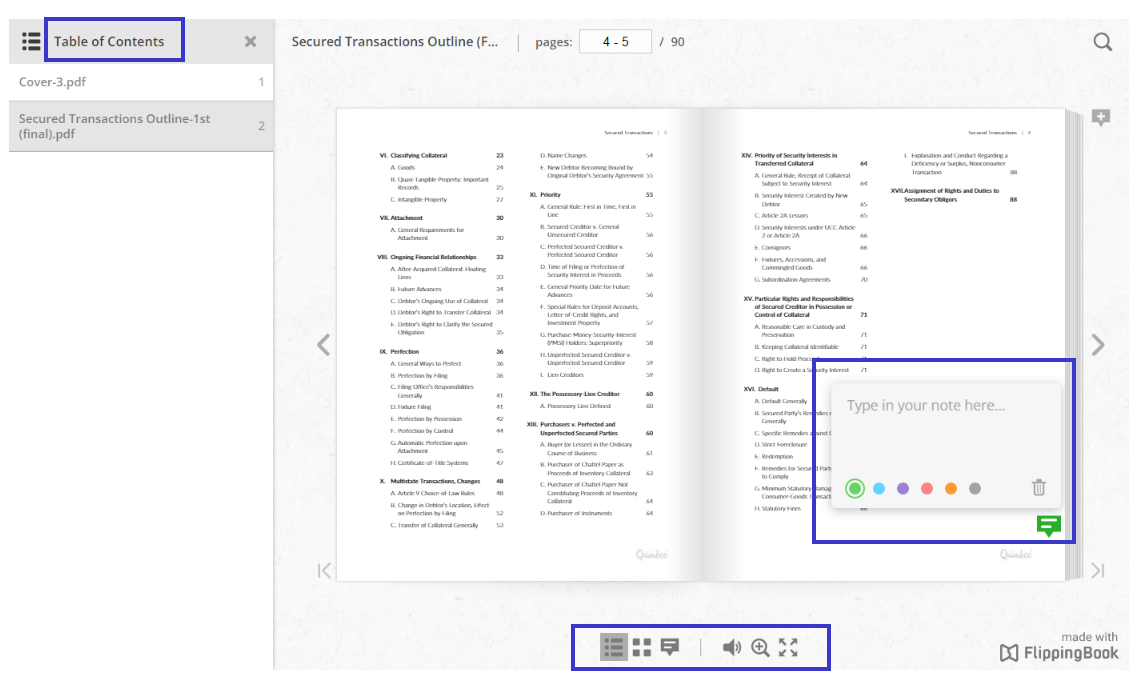 Using the handy buttons on the bottom, you can (from left to right) expand and collapse the Table of Contents, view thumbnails of all the pages, add helpful notes or comments for yourself, turn the page-flip sounds on or off, and expand the page to full screen or zoom in.
Plus, since Quimbee Outlines are fully optimized for mobile viewing, you can zoom in and pan using your device's standard gestures (e.g., pinch to zoom).
If you have any questions, please contact us at support@quimbee.com anytime! We're always happy to help.