Quimbee Bar Review, bar course, bar prep, UBE, Universal Bar Examination, MBE prep, Multistate Bar Examination, bar exam, bar review course, California, Florida
Quimbee Bar Review is designed to prepare you for the Uniform Bar Examination (UBE), the Multistate Bar Examination (MBE), or the bar exams in California or Florida. It's a 10-week, on-demand, and asynchronous online course containing everything you need to crush the bar exam.
Please note: Once you purchase the course, you may view the course calendar and the study materials, and you may complete tasks, but you will only be able to save your progress when the course unlocks. The bar review course unlocks 60 days before the course calendar start date or generally about 120 days before your bar exam date.
This course includes extensive strategy guides, outlines, videos exclusive to the bar review, diagnostic exams for the Multistate Bar Examination (MBE), a graded practice performance test (not available for Florida users), three attorney-graded essays (four for Florida users) with personalized feedback and much more.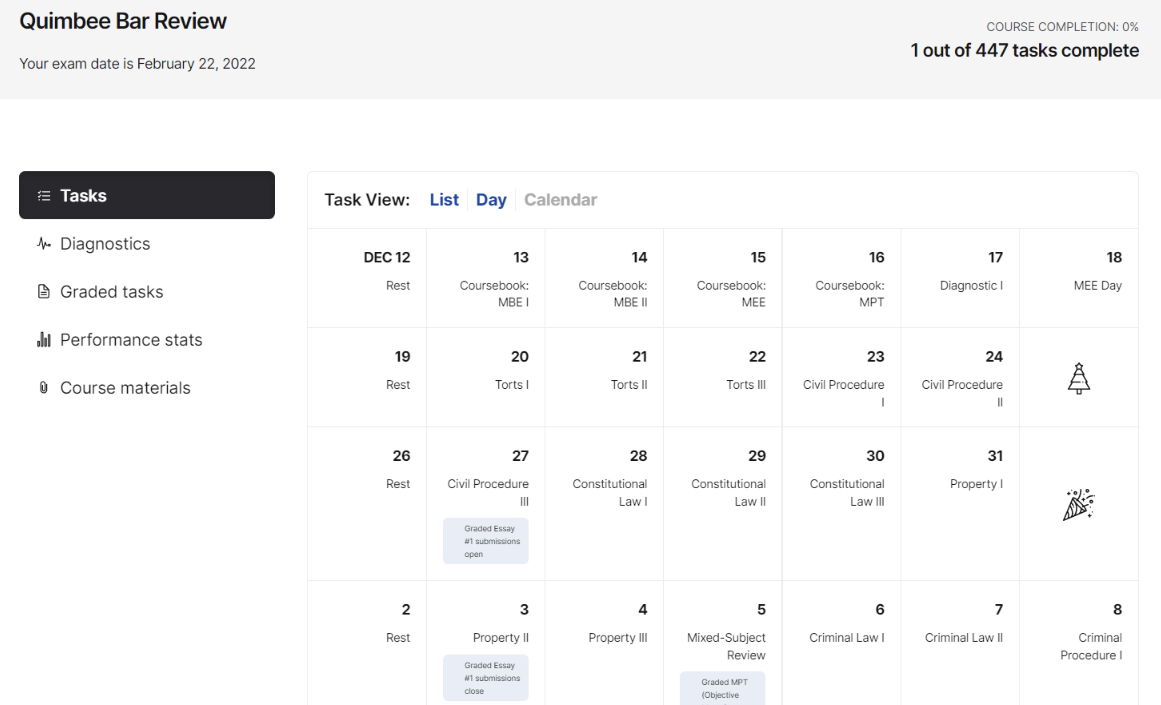 For students who prefer to study from hard copies, Quimbee Bar Review also offers an optional print package for an additional $150 (available at checkout).
Quimbee Bar Review also comes with access to a free five-day course to prepare you for the Multistate Professional Responsibility Examination (MPRE), which you'll gain access to immediately upon purchase.
Quimbee Bar Review is available for a one-time, nonrefundable fee of $999 ($699 for ABA Premium members).
You may purchase the Quimbee Bar Review course here. If you have any questions, email us at support@quimbee.com. 😃